Skilled Craftmanship On All Our Built-In Closet Cabinets
5-Star Cabinet Design & Contractors
It is our goal at AZ Cabinet Maker to make the best custom cabinets for the residents of Surprise. While there are a lot of skilled craftsmen out there, we always aim to make the highest quality products for you at the best price. Take a look at our line of custom and semi-custom cabinets – we can work with any budget. Contact us today if you have any questions about what we can do for you.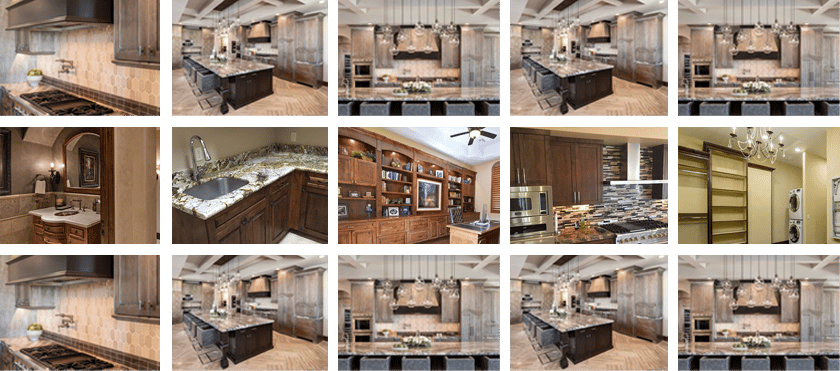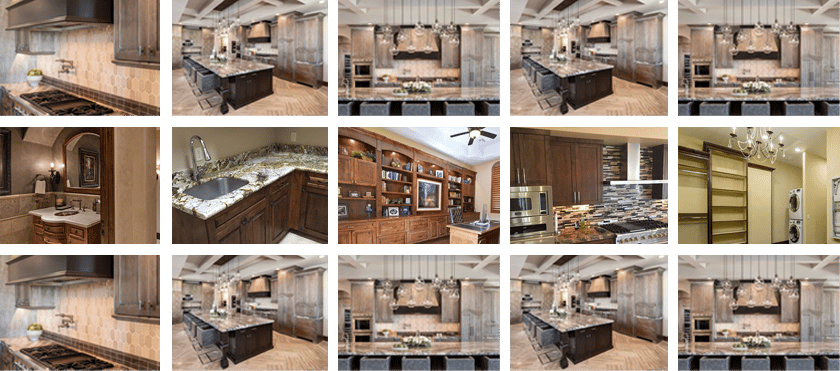 Need A Custom Cabinet On A Budget?
Check Out Our Value Series Semi Custom Cabinets
If you're looking for the quality of custom cabinets while keeping your project budget-friendly, semi-custom cabinets are the best choice. Our Surprise semi-custom cabinets come in a wide variety of designs and depths. Choose between different door styles and complement your new cabinets with various stains, paints, or glazes. Our artisans put a lot of thought into these and we are proud to have them for sale at a price that will be a great addition to any room or office at home or on your commercial property.
Take A Look At Our Custom & Semi-Custom Cabinet Designs
Skilled Cabinet Makers Near Surprise Providing High-Quality Custom-Made Cabinetry
This is where things start to get interesting for both you, as our customer, and us, at AZ Cabinet Maker. There are so many design and storage choices that you can make for your cabinets in terms of how big they are, what colors they are, and what kind of finish you wish for. If you decide to go for a 100% custom-made cabinet, you will be in complete control. Your imagination will be our canvas as we work on your custom or semi-custom cabinetry. We will make sure to keep you informed throughout the whole process.
Premium Custom Kitchen Cabinets Company Serving Surprise Residents
Luxury Built-In Kitchen Cabinetry

Top Rated Kitchen Cabinet Remodels

Skilled Kitchen Cabinet Installations

Kitchen Custom & Semi-Custom Cabinet Makers
Handcrafted & Semi-Custom Cabinets Near You
When you use AZ Cabinet Maker, you will get expertly made, handcrafted cabinets by our skilled cabinet makers near Surprise. That means that we don't carry stock cabinets, like other places. We put a lot of care and attention into every single one of our products, measuring everything twice and ensuring that they look just like you want them to. Both of us want your home to look great when you have the cabinets installed. Take a look at our reviews on sites like Yelp! and Google Maps. Other Surprise residents have been very pleased with the work that we do. That is because we listen carefully to what they want and get each part done perfectly.
Surprise's #1 Custom Cabinets By Design
Crafted Cabinetry Manufacturer & Installation Company
Kitchen
Your Surprise kitchen is the centerpiece of your home. It is important to make it look its best and, to achieve that, it takes more than just a nice sink and refrigerator. We can make cabinets that both look great and can hold a lot of things. When you get cabinets from us, you will love having guests over so that they can see how nice your kitchen looks.
Bathrooms
You might not think about a bathroom and cabinets – but it can lend an extra bit of decor. They can hold towels and other toiletries, allowing to keep your bathroom sink from getting too cluttered. Our skilled cabinetmakers can make luxury guest and master bathroom vanities that will give any bathroom in your Surprise residential or commercial property the style you envisioned.
Media Room
There are times that you just want to get away from the rest of the house and do something like watch a movie. We can set up cabinets to house things like a cable box or streaming device. This way, you can make the most effective use of the space with built-in cabinets in your entertainment room. Instead of worrying about clutter, you can watch whatever you want. Contact us to learn more.
Home Office
More and more people are doing remote work, which means it's time to remodel your Surprise home office. You will be able to focus on work and not on items that would otherwise be strewn around the office. We can help you improve your productivity. Our custom cabinets for surprise homes will help you focus on your work by keeping everything organized while adding a sober yet aesthetically-pleasing style.
Laundry & Closet
The laundry room, mudroom, and closet spaces. Three other places that are important to a well-functioning home. Whether you want a wide, luxury space for your master room, an open and inviting mudroom for coats and shoes, or a clean design to keep detergent and cleaning supplies, AZ Cabinet Maker provides custom and semi-custom closets and cabinets to give all you and your family's items a place.
Pantry Cabinet
Your storage space doesn't need to be boring. Give your pantry a remodel with the help of our skilled craftsmen and store your cans, boxes, and bags within reach kitchen shelves and pantries. Our craftsmen will take great care to ensure that the dimensions will be exactly what you want them to be. Your kitchen will be complete with our affordable cabinets. Give us a call to get started!
New Cabinet Installations
Surprise's Favorite Custom-Made Cabinetry Company
We are glad to serve the people of Surprise by providing them with the best cabinets in the area. They can choose from semi-custom or custom cabinets. Best of all, we can make them suit your budget. Our skilled craftsmen will carefully measure everything and ensure that it will fit exactly in the area that you need it to. Your home will look better. Contact us today to see what we can do for you.
Read Our Clients' Reviews
Custom Cabinet Makers Near You With 5-Star Reviews
Responsive And Courteous!
We are thrilled with our new cabinets. From start to finish, Richard and his crew were responsive and courteous. Once we submitted our design to final installation, we were pleased. Richard knows the industry trends and his advice is right on as to height of cabinets, types of pulls to use and quality of finishes.
Pam R.
★★★★★
Top-Notch Quality!
Richard at AZ Cabinet will make your cabinet dream come true. I found him to be a very honest man and a real professional. The cabinet quality is top-notch; you wont' regret using this company to build your cabinets.
Tina W.
★★★★★
Highly Recommended!
We had a wonderful experience with AZ Cabinets! Helpful with our selection of cabinets, ordered, delivered, installed as scheduled!! Immediately responded to minor adjustments. We would highly recommend them!! Very happy with our selection and the design he provided!!!
Eva K.
★★★★★
Contact Surprise's Top-Choice Cabinet Makers Today!
Get In Touch With Reliable Custom Cabinet Makers Near You
The workers at AZ Cabinet Designer are glad to work with every customer. We will discuss every detail before starting. You will love the results. Reach out to us today!